Jefferys Ledge, MA Sharks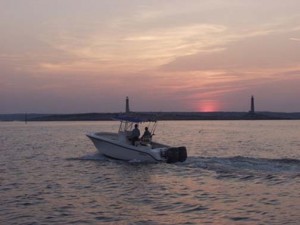 The August 20 visit to the Jeffreys Ledge of the coast of Massachusetts set a record for the longest run of the season. Andy and Rich's guest, Capt. John Pirie of On-Line Fishing Charters (978-468-1314) got the guys into an awesome shark bite. They baited, hooked and landed sharks to over 250lbs. All of the fishing was done while chumming and drifting just off the edge of the ledge in depths from 250 to 400 feet. If you have questions about any of the equipment used during the show, please contact us.
Click here for our recommended Shark Tackle.
Click to purchase this episode from the 2003 season collection at Captain Jackies