Georges Bank, MA - Cod Fishing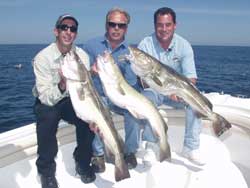 In late August Capt Andy and Rich hooked up with one of the sharpest cod fisherman in the Northeast, Capt Joe Huckemeyer of the famous Helen H (508-790-0660) out of Hyannis, MA. If you want to catch cod year round, Joe and the folks from the Helen H are the best choice.He and his partner Joe Wienberg, captain of the charter boat Fish Hawk (508-790-9777), took us out into 200ft of water and we positively bailed the big fish. We had too many 20-30lb fish to count during one of the best cod bites we have ever seen. The techniques and tackle in this show can be used by anyone who target big deep water cod whether on their own boat, a charter, or an open boat. If you have questions about any of the equipment used during the show, please contact us.
Click here for our Cod Tackle recommendations.