Long Island Sound, NY - Stripers & Bluefish from the Beach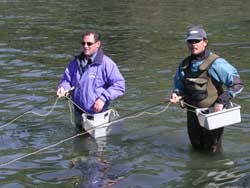 Captains Andy and Rich spend a day in early October visiting several shoreline locations on Long Island with some very special guests. Rich and Andy leave their boats behind and split up in the morning in search of stripers and bluefish. Rich heads off with "Crazy" Alberto Knie from Aquaskinz to enjoy some great striper fly fishing, while Andy teams up with Paul Michele from Yo-Zuri to test out some new swimming lures and Fluorocarbon leaders. After lunch Rich meets up with Bill "Doc" Muller from Uncle Josh for some red bucktail/pork rind action.
If you have questions about any of the striped bass fishing or the bluefish fishing equipment used during the show, please contact us.
In this show we featured Mud Dog Saltwater Flies.
Click here for our Striped Bass on Bucktails, Striped Bass Plugging, and Striped Bass on Flies gear recommendations
Preview Clip
(scroll down for full length show)
Watch on YouTube or share this link: http://youtu.be/f8MgKa2I1Ik

Full Length Show
Watch on YouTube or share this link: http://youtu.be/ut4QnhZJCgc