Rockaway Point, NY - Striped Bass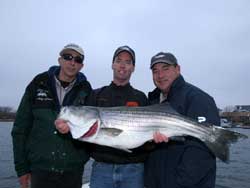 Captain Henry Feeney joins Andy and Rich for the final outing of the season. The guys travel out of Sheepshead Bay, NY to nearby Rockaway Point to get one more shot at the striped bass before they head south.They locate some of the local clam boats and work they area behind the dredges with clam baits. The bite never stops and even includes several keepers. If you have questions about any of the equipment used during the show, please contact us.
Click here for our Striped Bass Clamming gear recommendations.