Winter Cod - 2012!

Helen H
Sailing daily *Approx 3AM – Reservations required – Fare $ 120.00 per person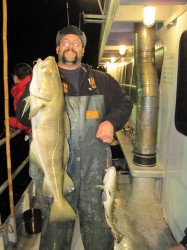 Boat will be limited to 60 fishermen. Rod rental equipment will be top-quality Shimano rods and reels.
The experienced crew from the Helen H and Capt. Lou will be back in Montauk for another winter Cod Fishing Season. Our 2011 season last year went rather well with closer fishing grounds and a lower fare due to a reduction of our fuel consumption. The Helen H has already started running daily trips.
Reservations
Helen H office (508) 790-0660
Capt Lou's office (516) 623-5823
Hotels
Montauk Manor – (631) 668-4400
Vistit the Helen H website for more information
Island Current
The Island Current Fleet has already begun its winter cod fishing trips up in Snug Harbor, RI with amazing results. This winter both the Island Current III and the Island Current will be departing daily at 5 AM, weather permitting. Our times will switch once the bites develops into an early morning bite. We recommend making a reservation.
Our special hammer diamond jigs can be rented or purchased right on board. The Island Current III is extremely roomy and has a spacious heated cabin. We have limited our load to 50 passengers on open boat trips allowing for more room and fishing space. This is especially beneficial during the drifting days with a lot less tangles. We continue to offer Private Charter Specials for both the weekend and weekday. The Island Current II is ideal for private groups in the 6 to 20 passenger range. Our large galley allows for fine meals and snacks to warm up on cold winter days.
Reservation
Online tickets at ZERVE or call (212) 209-3370
Kyle Ondrey
Senior Writer/Director of Marketing - Northeast Angling