Permit Insanity - Amazing Story and Video
"Jeff Pierce is a good friend and a great fisherman. The amazing story and video below come from him and special thanks go out to him for sharing this with us.  He doesn't wrap alot of words around the permit incident, but he doesn't need to…the video tells it all!" Capt Andy LoCascio
If you're a hard core angler, you have to adapt to all kinds of situations. There are the travel issues, making your way to locations to fish and film. Cancelled flights, lost bags, etc. Then of course there are a huge number of variable well out of your control. Poor weather. Downright awfulweather. Adverse water conditions (drought,flood,bad tides). Fish turned off. It goes on and on. These are things you just have to deal with and try and make the best of the cards you are dealt. The difference between a good angler and a great angler is their ability to adapt to all the curve balls thrown at them. Sometimes the decisions made in trying to adapt fall flat and you struggle. Other times the planets align and you hit a homerun.
The first week of February I traveled to Key West to participate in the first annual Cuda Bowl. This tournament was the brain child to Mustad Prostaffer and good buddy Capt. Justin Rea. Justin was looking for a way to better promote the lower Keys to anglers during the winter months. When fishermen think of the Keys they typically think Tarpon, Bonefish, Permit. Well the region offers so much more than that and one fish in particular just isn't given the respect it deserves. The Great Barracuda is a tremendous gamefish on light tackle in shallow water and during the winter months, the fishing is at it's peak. The colder the better when it comes to chasing cuda's in the skinny water. As waters cool from successive cold fronts, larger barracuda that patrol offshore reefs slide into the shallow water to sun themselves, warm up and feed on all the bait. This results in some spectacular shallow water sight-fishing for these larger fish, which can exceed 60 inches, with light tackle and fly gear. The strikes are often explosive and when hooked, the barracuda make high speed drag screaming runs and often jump multiple times. It really is something to see.
So Cuda Bowl 2011 was born and the dates were set for the Friday/Saturday prior to the Super Bowl. Typically this time of year it's windy in the Keys and cold fronts roll through, dropping water temps. This can turn off the fishing for other flats fish but really fires up the cuda's.
On the last day of the tournament I managed to catch a permit on the fly. While that in itself is something to be proud of, this particular catch was just insane. Spend enough time on the water and you'll see and experience some crazy stuff. This catch was one of those things we will never forget. Thank goodness we got the whole thing on film as folks never would have believed us when we told the story.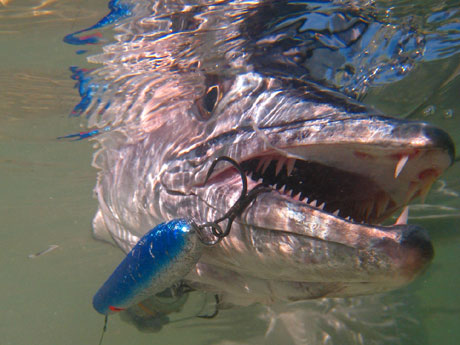 Photos and written by Jeff Pierce of Mustad
Kyle Ondrey
Senior Writer/Director of Marketing - Northeast Angling