Raritan Bay, NJ - Flounder Fishing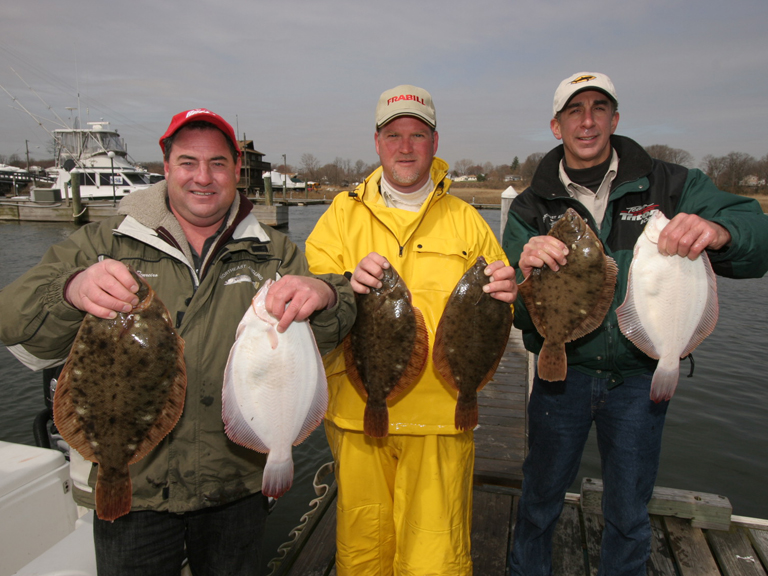 Captains Andy and Rich meet up with Lou Grazioso of Stripermania Sportfishing Charters to get in on an some amazing early season flounder fishing (winter flounder fishing) in the sheltered waters of Raritan Bay during the first week of April. They catch too many big founder to count up to 2lbs while using a special new chum formula and bait enhancers.
"This was the first time we used the Gulp Chum for flounder fishing. I have to admit I was initially skeptical, but it was incredibly effective. This was not the first show we did with Lou Grazioso, and us usual he got us into a great bite!" Capt Andy LoCascio
Flounder stocks are always at risk.  One of the big reasons is that almost everything feeds on young flounder.  They are an easy target for fluke, stripers, weakfish, and especially cormorants.  It is critical that all anglers pay careful attention to the regulations.  We realize these are not always perfect, but they are the best regulators can do given the limited data they have.
The techniques in this show can be used by anyone who targets winter flounder anywhere in the region. If you have questions about any of the equipment used during the show, please contact us.
Click here for our recommended Flounder Tackle.
Preview Clip
(scroll down for full length show)
Watch on YouTube or share this link: http://youtu.be/kkKYOA0tGbA

Full Length Show
Watch on YouTube or share this link: http://youtu.be/slkhUMOuqAs