Recommended Shark Tackle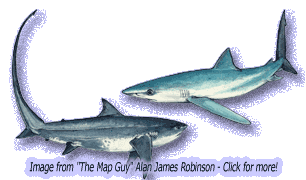 The rod we recommend for shark fishing chunking is a 5'6″ to 6'6″ conventional stand-up rod rated for 50-80lb mono.  Going to heavier shark tackle will allow the angler to put more pressure on bigger fish and shorten the fight time, but may take some of the sport out of fighting smaller fish.  Heavier line can also be a handicap when the fish are line-shy.
Shark Fishing Reels
We strongly recommend using only lever drag reels for shark fishing.  Two-speed reels provide an added advantage.   Some sharks can be line-shy and for this reason all sharking is done with mono.  In addition, when using a mixture of live baits, drift baits, deep and shallow baits, there is a good chance of tangles.  Braid can be very tough to untangle.  Lever drag reels are a must for circle hook fishing (also recommended – see below).  The lever drag allows the angler to slowly increase the drag pressure to ensure the proper hook set.
Shark Tackle Leader and Connections
There are numerous tips and tricks for shark fishing rigs.  Use at least 8ft of 130 to 200lb f luorocarbon leader with double crimped offshore loops on either end.  We rarely use less than 130lb leader.  When targeting the big mako sharks and thresher sharks we use leaders as heavy as 400lb.  We connect the fluorocarbon leader to the main line using a 300lb (or larger ball) bearing swivel that is rated higher than either the main line or the leader (it just needs to be rated higher than one of them).  A second ball bearing swivel should be used to connect the leader to an 8ft length of #14 (220lb) single strand wire using a haywire twist. The rig is completed with 10/0 O'Shaugnessy style hook or an 8/o or larger 2x  circle hook which is also attached with a haywire twist.
Fighting Belts for Shark Fishing
We recommend the Black Magic Fighting Belt and Harness. This is a uniquely designed belt and harness system that helps prevent side-to side slippage while reducing back strain. It offers true seat conformation, more stability and fighting leverage!
Shark Tackle Checklist
5'6″ to 6'6″ conventional rated for 30-50lb mono or higher
Lever drag conventional reel rated for 30lb mono or higher
50lb or higher mono or mono top-shot
50lb or higher braid for backing
100lb  or higher ball bearing swivel
2x 8/0 and up circle hooks
10/o and up O'Shaugnessy style hooks
Please contact us if you have questions about our shark tackle recommendations!
Click here to see all of our Shark Content (news, video, techniques, tips, shark tackle innovations, and locations)

CLICK HERE FOR FREE SHARK FISHING VIDEO CLIPS!
Shark Fishing Techniques and Tips
Proper chum is the key to a great day. The chum mixture should start with a 4 gallon pail of ground bunker chum mixed with 8 gallons a sea water. This mixture must be constantly ladled overboard to produce a very consistent and effective slick.
The shark fishery, while only a pale reflection of the glory days of yesteryear, offers anglers a chance to catch 10-25 fish a day using a variety of different tackle.  While the majority of fish are blue sharks, mako sharks, porbeagles and thresher sharks are seen regularly.  One of the primary reasons for the strong blue shark fishery is that they have not been previously targeted as a commercially viable species.  However, resources dwindle and previously overlooked species become sought after by commercial interests.  In the meantime, anglers can enjoy the opportunity to pit their skills and shark tackle against a truly worth opponent.  Blue sharks will test every knot, line, drag and rod you use.  Gear will break, fish will be lost, but the sharks keep coming.  A good day in mid August would include leadering over 20 fish.  Such days are quite common.  Anglers often go home not because the charter is over but because they are exhausted.  It is not uncommon for us to leave a drift with 4-6 fish still working the slick.
Hit the spot
Perhaps the most important aspect of the fishery is picking the spot and setting the drift Look for an area where there are a bunch of contour lines stacked together indicating a significant change in depth. (Wildcat Knoll 32 miles due east of Boston is a good example)  When you get to the area, look for water temperature shifts and baitfish or other "action" (tuna, dolphins, etc.) and break out your best shark tackle.
The Right Drift
Once you have found the perfect spot, calculate the drift by shutting down and letting the boat drift.  For most boats, wind is the dominant factor in determining your direction of drift.  Once you have determined which direction your boat will drift, head "updrift" 180 degrees opposite the expected drift until you are two to three miles away from the area you want to fish.  Put your chum bucket in the water, turn on the I.V. and "power chum" (run with the engines on at about 6-8 knots for about a mile in the same direction as your drift will take you).  Once you have power chummed for about a mile to a mile and a half, turn off the motors and drift.  You should drift at around a knot to a knot and a half.  Any faster is not good.  Deploy a sea anchor on really windy days to slow your drift.  Using this method you have essentially jump-started your slick and in a short time it is over a mile long.  Also, you should reach your "destination" after about two hours of drifting.  You don't want to start over the optimum spot, you want to drift across it when you have a two mile slick trailing behind you. Have faith in your selection.  Breaking a slick is ALMOST always a bad idea.
Be patient
Stick with it and if the season is right and you have built a good slick, they will come.  Don't get nervous and move.  If after FOUR hours you haven't seen a single fish then you might want to reconsider your choice of location.  Last year, we had some clients on board who were tired of fighting nothing but huge blue sharks in the 10-12 foot range,  I offered to move to a spot where I was confidant I could find some smaller fish.  We set up our second slick after moving about 7 miles.  A 9 foot blue shark showed up.  He was acting a little skittish but seemed interested in our baits.  Suddenly he vanished to be replaced by a 700 lb 10 foot female Mako who was a nasty creature in a particularly foul mood.  Her head was all bitten up from breeding encounters with aggressive males.  We yanked the small baits out of the water as she sauntered up to the transom.
Chum for success
As far as chumming is concerned there are basically use three types.  A frozen bucket of fresh ground herring in a milk crate is the primary system.   Tie the milk crate so that the bottom of the crate is just barely under water.  That way the rocking of the boat will suck the chum out of the bottom of the bucket and you will only thaw a small bit at a time.  Refined herring oil is an important ingredient in a slick.  Think about using a drip bag to dispense the oil.  This stuff is incredible.  Get old I.V. bags from hospitals or supply houses (they are not hazardous bio -med waste) and fill them with oil.  Set the flow valve to the correct rate for the days drift.  Finally, we cut small chunks of mackerel to help keep sharks interested once they are in sight.
Get them to eat
Casting for blue sharks often requires minimal effort on the part of the angler.  Sharks will often eat the bait close to the boat.  There are times when "hot" fish will actively pursue retrieved baits right to the boat.  Such fish are easy to hook.  Well fed, more complacent fish are much harder to hook.  Sometimes these fish must be repeatedly fed with chunks of mackerel before they will accept a hook-bait.  Once there are a number of sharks around the boat, competition will often create a feeding frenzy wherein sharks will eat any bait thrown into the maelstrom.
The hook set
Most of the time, anglers will witness the shark eat the bait.  Once the shark turns its head at right angles to the angler, the hook should be set with one or two strip strikes.  Since the hooks are razor sharp and sharks mouths fairly soft, setting the hook is not a difficult prospect.  In fact most hooks are kept seated by the steady pressure that exists during the fight.  Don't treat the shark like a tarpon and try to rip it's lips off.
Keep the pressure on
Once the fish is hooked anglers should attempt to put maximum pressure on the fish immediately.  If you have taken care to preset your drags with a hand scale you should not have to make many adjustments during the fight.  If you give up more than 200 yards you should either start your motor and chase the fish, or back off the drag due to the line drag increase caused by having so much line in the water.  One of the added benefits of using braided lines is that the small diameter (compared to Dacron or mono) greatly reduces line drag in the water.  Use low rod angles and side pressure to shorten any fight.  Once the fish is near the boat, care should be taken.  If the fish is tired, one can often successfully tag and remove the hook from a fish. Barbless hooks and careful leadering improve the odds of this operation greatly.  A quiet blue shark can often be held by the leader.  Green fish are almost always broken off prior to hook removal and often before tagging.  Don't be in a rush to bring your fish to boat side.  Tired fish are far easier to handle!
Break out your best shark tackle
All shark tackle must be of the highest quality.  High quality reels with smooth drags are a pleasure to fish with.  Drags must be heat resistant since runs are long and drag pressures are high. Shimano¹s new Torium series are a good case in point.  Using braided lines and the high speed retrieve of these new reels, anglers can stay on top of their fish easily during the fight.   During the early season, one can catch small female blues on 12-15 lb rods.  However, once the larger 6-10 foot fish show up 30-50lb rods become the norm.  Extended fore grips are a must to reduce arm fatigue.  20 minute battles are not uncommon and good rod design will become evident during such a fight.
Shark Tackle  – Keep it simple
Leader systems are fairly basic.  8-10ft of wire, usually 49-strand stainless wire doubled through the hook eye on one end and crimped twice will suffice.  Create a ½ inch loop on the other end.  Coffee colored single strand in sizes 9-11 is also effective.  A simple haywire twist at both ends completes the bite protection.  Use hooks that are 10/0 non-stainless so it will rust out if the hook cannot be removed.  They should be hand sharpened to a triangulated razor-sharp point.  Barbs should be crushed down for easier hook removal. A 130lb snap swivel (or larger) attached to the main line will allow you to quickly and easily attach rigged baits.
Let 'em go free
Given the depleted status and poor management of our shark fishery, all sport fishermen should endeavor to release the majority of sharks.  Blue sharks are basically uneatable.  Fisheries biologists report that makos should not be harvested until they have reached sexual maturity which will often not occur before they reach a weight of 250 lbs.  Tagging programs such as the National Marine Fisheries Service's Apex Predator Program provides scientists with valuable information regarding migrations and growth patterns of these sharks.  Tags can be obtained by contacting the NMFS Apex Predator Study in Narrangansett Rhode Island