Odyssey - Don't Get Stuck with a Dead Battery
If your vehicle is in the garage for weeks or months at a time, chances are your battery will be drained by pesky parasitic loads. So, when you're ready to hit the road or take the boat out on the water you may be stuck with a dead battery. To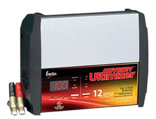 avoid ruining your day because of a dead battery, keep it on trickle charge using any of these approved Odyssey chargers or physically disconnect one of the two battery cables. This will help you get the most from your Odyssey battery.
Battery chargers are one of the most important things we can add to our boats. We all make mistakes and can sometimes leave one or all battery switches on and possibly not return to our boats for a day or so or even a week and the last thing we want is to come down to a boat that we cant use due to drained batteries. In many cases during the striped bass season the water quality can become very poor and the chances of keeping baits alive overnight in a bait pen can be risky. Having an on-board battery charger allows us to plug the boat into the shore power at the dock and run our livewells over night and keep the baits more oxygenated and ensure a good day of fishing.
We recently switched all our boats over to Odyssey Batteries.  The ratings and life expectancy on these batteries blow everything else away.  Click here to see their selection of Odyssey marine batteries or find an Odyssey dealer near you.
Check back soon for our videos featuring Odyssey Batteries and Odyssey Chargers!
Kyle Ondrey
Senior Writer/Director of Marketing - Northeast Angling