Galapagos Fishing 2014 - Bucket List Trip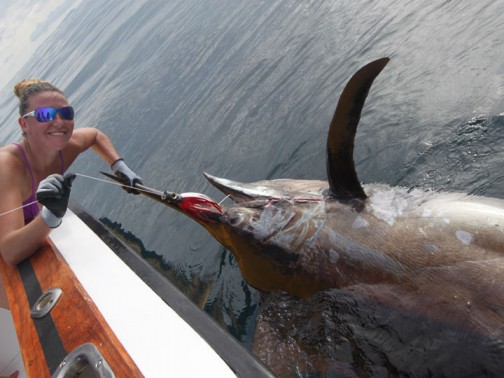 Capt Andy will once again be headed to San Cristobal in the Galapagos, Ecuador to film and fish for giant striped marlin, blue marlin, black marlin, wahoo, and big yellowfin tuna on popping plugs.  This is a true "bucket list" trip and if you have ever thought of doing it, now may be the time.
Capt Andy will be there from March 1 through March 18 fishing with the crew from Sportfish Galapagos.  This will be his 8th trip in the last 10 years.  he can help you set up all the details for our trip.
Galapagos Fishing Details:
The best group size is 2-3 anglers
The boats are clean and suitable for women and older children
The island of San Cristobal, Ecuador (major jetport and population over 5000) is the home base
Most groups choose to fish 3-4 days and stay on the island for 5 days or more
The primary targets are Striped, Blue, and Black Marlin, Wahoo, and huge Yellowfin Tuna
It is not unusual to see 30+ marlin in a day and have double digit strikes
The striped marlin are the largest found anywhere in the world (150-450lbs)
The marlin are typically caught trolling, but can also be targeted on the fly
The tuna can be trolled, but are best fought using heavy spinning tackle and poppers
There are also opportunities to target Pargo, Amberjack, Grouper, African Pompano, Trevally, and more
The weather is typically hot and flat calm
More About the Fishing:
Getting There:
Fly from New York to Guayaquil, Ecuador – 5.5 hours
Fly from Guayaquil, Ecuador to San Cristobal, Galapagos – 1.5 hours
All flights are from major airports on large jets (no small planes)
We have an excellent agent that can handle all your flights and save you money
Flights are booking up fast and you need to act soon
Accommodations:
Hotel Miconia is our first choice
Restaurant, bar, and small pool
Air conditioning
Private bathrooms
Standard room approx. $90/night (3-4 better rooms are available)
100ft walk from the boat
Located on the water in the heart of the town (walking distance to everything)
Internet access
ATM machines
Pharmacy, shops, etc.
Touring and Other Activities
Incredible sightseeing and land based eco-tours (Darwin came here and so should you)
Every boat ride has loads of dolphins (flipper – not the eatin' kind) around the boat)
Nearly all of the animal life the Galapagos is famous for are there including iguanas, sea lions, tortoises, boobies (heh!), and more..
The worlds greatest snorkeling including swimming with sea lions, sharks, and sea turtles
Visit to the Tortoise sanctuary and the volcano (must see!)
Scuba diving
Kayaking
Incredible surfing (some say the best in the world)
More sea lions than you have ever seen or heard in one place
Great dining
Here are the costs:
Airfare is approximately  $1000 round trip from New York
Rooms cost $90 per day
Food and drink are incredibly cheap
Fishing costs $2000 per day
With a group of 3 anglers and 3 days of fishing, the cost per angler for the entire trip is less than $4000 (everything included)
If anyone is interested contact us immediately
By Capt Andy LoCascio - Host of Northeast Angling TV Share your comments on the
Northeast Angling Facebook page