Penn Spinfisher VI Product Review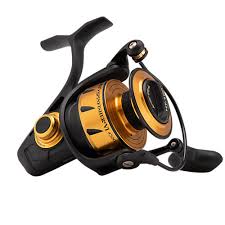 Capt Andy LoCascio shares his observations about the new Penn Spinfisher VI.  This is one of the longest running series of spining reels offerred by Penn.  Here are some of the major features:
Fully sealed body and spool – certainly splash-proof and you won't be afraid to hose it off after use
CNC gears and 6 sealed stainless ball bearings- super smooth rotation and exceptional power
HT-100™ carbon fiber drag washers – smooth, long-lasting, and the industry standard for a great drag
Full metal body – tough and great looking
Line capacity rings – ensures the proper fill every time and gives the angler feedback when big fish are ripping out drag
Automatic bail trip (2500-5500 only, manual for the larger reels)
Gear ratios ranging from 6.2 (smaller models) to 4.2 (largest model)
Instant anti-reverse
Right/left interchangable reel handle
Click here to learn more and buy at Tackle Direct
Click here for more details at from the manufacturer
Contact us with questions or comments
View our tackle recommendations for all species and techniques
Watch on YouTube or share this link: http://youtu.be/flrw8Ddskbg?rel=0

Capt Andy LoCascio "I really loved the Penn Spinfisher VI. Over the course of field testing and using this specific model, we have over 30 days of hard fishing. I have been using this series for over 40 years and this is a great leap forward. This is an exceptional reel at the right price. Feel free to contact us for more details."
Line Recommendations for Penn Spinfisher VI
There are very few applications where monofilament line is recommended, so these recommendations focus on braided and fused lines.  For light tackle plugging, jigging, and bucktails we recommend 20-30lb Berkley Fireline Fused or Crystal.  When stepping up to the larger series and plugging or jigging for bigger fish and the larger reel sizes (5500 and up), we recommend 50-65lb Fireline Ultracast.
We also recommend a fluorocarbon leader (use your judgement on line strength).  The absolute best connection is a short bimini twist in the braid with and Albright knot connection.  Once again, if you are not sure, just contact us!
By Capt Andy LoCascio - Host of Northeast Angling TV Share your comments on the
Northeast Angling Facebook page