Destination Cape May
Cape May, NJ is a spectacular place to visit. It is an incredible place to jump on a boat and go fishing or just take a walk around town, there are so many great local shops and restaurants to go to.
Where to Stay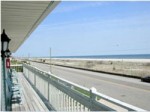 Being part of the Jersey shore there are so many hotels to choose from. We always stay at the Buckingham Motel. They are located directly across the street from the beach and ocean view rooms are available. They have very reasonable rates even for their ocean view rooms. The Buckingham is within walking distance of some great shopping including some great fudge shops.
Looking for Lunch?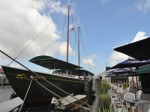 Visit the Lobster House. This is the place to get the freshest seafood in Cape May. They are a full restaurant with a raw bar and an incredible fish market. You can also dine on their iconic 130 ft. Grand Banks sailing vessel and outdoor cocktail lounge, The Schooner American. A fixture at The Lobster House since 1965, topside on the Schooner is an unparalleled destination for cocktails, luncheon, with lighter fare during the dinner hours, all while enjoying the breathtaking view of passing yachts on Cape May Harbor. Free dockage alongside the Schooner is available to patrons arriving by boat upon a first come basis. A truly unique experience, The Schooner American will become your favorite place to relax in Cape May.
Where to Launch and more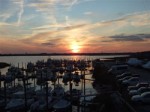 Though there are several marinas, Snug Harbor Marina is a great choice and where we keep      our boat when we fish Cape May.  The Marina is currently under construction as they are making room for more docks, a protective wave barrier and dredging to accommodate larger vessels. They have a full service tackle shop, hardware, pumps and engine parts are just a few of the items carried. Live and frozen bait is also available including, minnows, squid, spots, eels, bally-hoo, mullet, spearing, clams and chum. Ice in 5, 10 and 50 lb bags. Their charter boats are captained by an expert and professional group of fishermen that have either new or upgraded boats and equipment second to none. There are several prominent charter operations that leave from the marina (including Stalker Fishing Charters and Adam Bomb Sportfishing Charters). The ship's store is also your local headquarters for survival gear and EPIRB's and PLB's (personal locator beacons). Their service department is equipped and trained to handle any of your repair or repower needs that might arise. They are a dealer for several boat and engine manufacturers as well as a Load-rite trailer dealer.
Fishing Access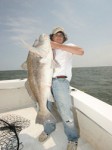 Cape May is a very reasonable distance from the Hudson Canyon but with world class inshore fishing like massive black drum just minutes from the dock you wont want to go offshore. The first trip we made down to Cape May was to film our famous black drum show. It was great being so close to such incredible fishing. Black drum fishing was new to each one of us so we were all excited to film this show. After filming that show we were ready to go back for round two. Myself, Andy, and Rich try to make a trip back down there to enjoy this amazing fishery each spring.
Inshore Species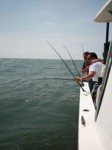 Just about every inshore and offshore species can be caught, but the most common inshore species include striped bass, bluefish, fluke, and of course Black Drum! There can be an awesome early season monster bass bite in the spring that slows a bit during the black drum season but it is still good.
Click here to see all Northeast Angling Cape May, NY Shows
Click here to see New Jersey Fishing Reports
Click here to view Striped Bass Tackle
Click here to view Bluefish Tackle
Click here to view Fluke Tackle
Click here to view Black Drum Tackle
By Capt Andy LoCascio - Host of Northeast Angling TV Share your comments on the
Northeast Angling Facebook page